Websites are the best way to attract potential clients to products. Emails remain the best way to communicate via email with leads and clients.
These two seem to be in different worlds and there seems to be no connection between them. You can increase the number of visitors to your site by using email outreach.
Understanding Conversion, conversion rate, and conversion rate optimization
Let's start by discovering what conversion, conversion rate, and conversion rate optimization are; then we'll move on to their definitions.
A conversion is the change of a leads' status to a higher one.
Let's assume that you have a web page visitor who subscribes to one of your newsletters. This is a conversion. When someone subscribes to your service for a free trial, a conversion occurs. A conversion occurs when a new user buys something from you for the first (or any) time. When your paying customer changes their plan, this is an upgrade. Every time someone changes their status from a lower one to a higher one, they're called a conversion.
Conversion rate is the proportion of people who visit your site to people who convert into paying customers. Analytical tools usually calculate the conversion rate automatically, but if they don't, you can always calculate it manually. However, if you want to get started yourself, here's the simplest formula:

Conversion rates vary across industries. However, the average conversion rate from B2B and BtoC is 13.28% and 9.87% respectively.
Conversion rate optimization is a set of actions taken by websites to improve the customer experience and push visitors to conversions. You can improve your landing page by making changes in design, updating your email copy, etc.
Here are some reasons why you need to improve your conversion rate optimization strategy:
Improved customer experience
Growing customer retention
Better traffic
Higher ROI
What Customer Journey and Sales Funnel Are
These two terms can be sometimes used interchangeably. A user represents a person's relationship with a stranger (aka visitor) to a regular customer. There's a small difference between them. The customer journey is mostly used within B2C niches, while the sales funnel is common for B2B niches.
Different sources suggest that the funnel can be anywhere from three to fifteen stages long. The best way to get people interested in buying something is by using five steps: awareness, interest, consideration, choice, and purchase.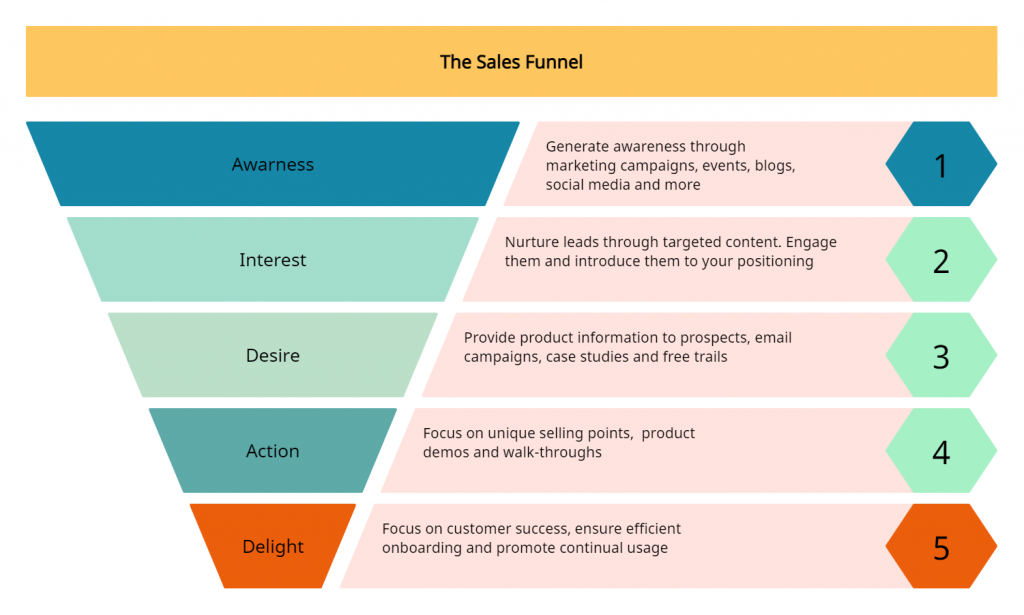 After you understand the sales funnel, it will be easier to analyze the performance at different stages of it. So, you can figure out what needs improvement.
To convert leads like a pro, keep in mind a few basics:
Know your target audience, and create a customer profile for them.
Create relevant content and speak in the language your audience understands.
Be bright and attractive:  work on user interface (UI)/user experience (UX) design, create relevant content for your customers, and train your customer care team.
Don't forget: People don't buy from companies after visiting them once. To improve the website's conversion rate and help leads move through the stages of the funnel, professionals do their absolute best.
The easiest way to quickly build relationships with leads is by interacting with them through different channels Combine emails, content, social media, calls, messengers to achieve goals.
However, thanks to email marketing, you can move visitors through a sales funnel, onboard them, nurture them, improve their customer experience and engage them again.
Do You Know Your Website's Hidden Growth Potential?
Take our conversion-focused web design test and see if your website is designed for conversions and which parts don't convert.
What do You Need to Do Before Sending outreach emails?
Outreach emails are often considered to be spam by recipients because so many 'marketers' fail to put this solid process in place and send emails blindly to as many people as they can, regardless of whether or not they are likely to be interested.
Emailing everyone turns you into a spammer, so stop doing it. This is why you should know when it is appropriate to contact people and when it isn't.
Here are three common situations where you can follow up with someone via email:
Visit but no action. Analytical tools like Albacross or Leadfeeder let you know when people visit your site. What if a person gets interested but needs an extra push? An email will help you lead them where they want, to a conversion.
Question but no purchase. You may get a clarification question on your website from your visitors. Even when they get a response, they still don't buy from you. Email outreach will help both answer the question and move it to actual conversion.
Subscription: Create lead magnets and distribute them in exchange for the contacts' email addresses. You get their valuable email addresses so you can later reach out to them. Fair? Yup.
Step 1. Get Email Addresses of Your Potential Clients
Emails are the best way to reach out to people. This is a professional form of communication:
Email is by far the most effective form of outreach. Here's where you can find the email addresses of your potential clients.
Where to Find Emails
Before you start working to improve your website conversion rate, you need to generate new leads and get their email address. There are some cheap but effective ways to not waste your valuable time and money. They are subscription forms, lead magnets, and email finders.
Add a subscription form to your website. People can stumble upon your website by chance, and you have useful information that they might find interesting. Why not share it? Ask people to sign up for email newsletters they will enjoy. With relevant and up-to-date information, it will be easier for you to understand.

Don't forget to ask for their contact details. This way, you can create personalized emails.

Create lead magnets. You don't need paid lead magnets; they're priced differently, so the emails' addresses. Give people the option to download an e-book or a checklist in exchange for their contact details. Make sure that your subscription form is advanced: name, company name, position, etc
Search for the leads' email addresses online. To get the email addresses of your potential clients, you need a special tool, an email finder. Read about them in-depth in the next paragraph.
If you prefer social networks, you need to know what suits your business. If your niche is business-to-business (B2B), then LinkedIn is the best place for you. For B2C companies, Facebook, Pinterest, Instagram, and Snapchat are best for social media marketing
What about Facebook, Instagram, YouTube, and Twitter? They are versatile, so they can be used for both B2B (business-to-business) and B2C (business-to-consumer)
How to Find Email Addresses
An email finder is an instrument that helps you get the contact details of your leads.
Imagine, you've found the necessary person on LinkedIn, but they are in the third connection with you. How can you reach out to them? You need to send a request, and in case the person accepts it, you will be able to write to them. Time-consuming and not reliable, isn't it?
This is when an email finder comes to the rescue. Activate the email finder extension and add the email address to your list of contacts. Fast and simple, yeh?
You can use email-finding tools on any web page. These are websites, profiles, and pages on social networks, search engines, and so on.
There are lots of email finders out there, so you can pick the one that suits your needs and budget. You can either get enriched or non-enriched leads depending on which lead generation tool you use.
When you have an enriched lead, you have only their email addresses and their names. An enriched lead is a lead with extra information, like company, position, location, etc.
Enriched leads are better than regular ones because they allow you to send a personalized approach. A general one is not appreciated as much as a specific one.
Step 2. Choose a Tool for Cold Email Outreach and Build an Email Campaign
To improve the website conversions with email outreach, you need to… Send emails, that's it!
There's hardly anyone sending emails to a bunch of leads manually. Professionals all over the world have already switched to marketing tools that automate their workflow. The most popular and used tools are email drip campaigns.
Drip emails are messages sent to people over some time in response to the recipients' behavior. These emails are used for cold outreach, user onboarding, lead nurturing, etc.
A drip campaign is easy-to-create. With a simple-to-use drag-and-drop editor, you'll be able to create a personalized campaign and reach anyone.
The emails are sent automatically. Set up the campaign, add delays, and triggers, and then click the Send button. Since then, the manual work has been done for you. Follow the campaign stats as all the follow-ups fly when a definite trigger activates or delay time is over.
The tool saves you time and effort. All the emails within the campaign were sent independently, but you had free time to make something else more important. 
You can satisfy any marketing need. Onboarding, nurturing, re-engaging, growing your brand awareness, promoting content, improving engagement and loyalty, etc., You're the only one who limits yourself!
Want to know how email drip campaigns work and how to build an email sequence? Here's a comprehensive guide on how you can do this.
Step 1. Sign up and set up your account, create a list of prospects, and verify it.
Step 2. Open the email drip campaign builder.
On the left in the campaign builder, name the campaign, choose the sender's email account, and fill in other options according to your preferences.
Step 3. Select the list of prospects in the Start element.
Step 4. Drag and drop elements to the field, connect them with a line to make the flow, compose emails, add your professional email signature. I'll stop on how to compose a converting email further on.
There are 4 elements in the campaign: email, trigger, delay, and goal.
You can create plain-text emails or use HTML ones. Personalize emails with variables, attach files, insert links, format the text, use emojis, and take advantage of many other options!
The trigger and delay elements allow you to personalize your campaign. More of that, they help you protect your sender's reputation from bulk emails.
The goal element is the end of an email sequence. Name them accordingly to always know what step you need to take next.
If you want to see what the email looks like, send a test email to your address.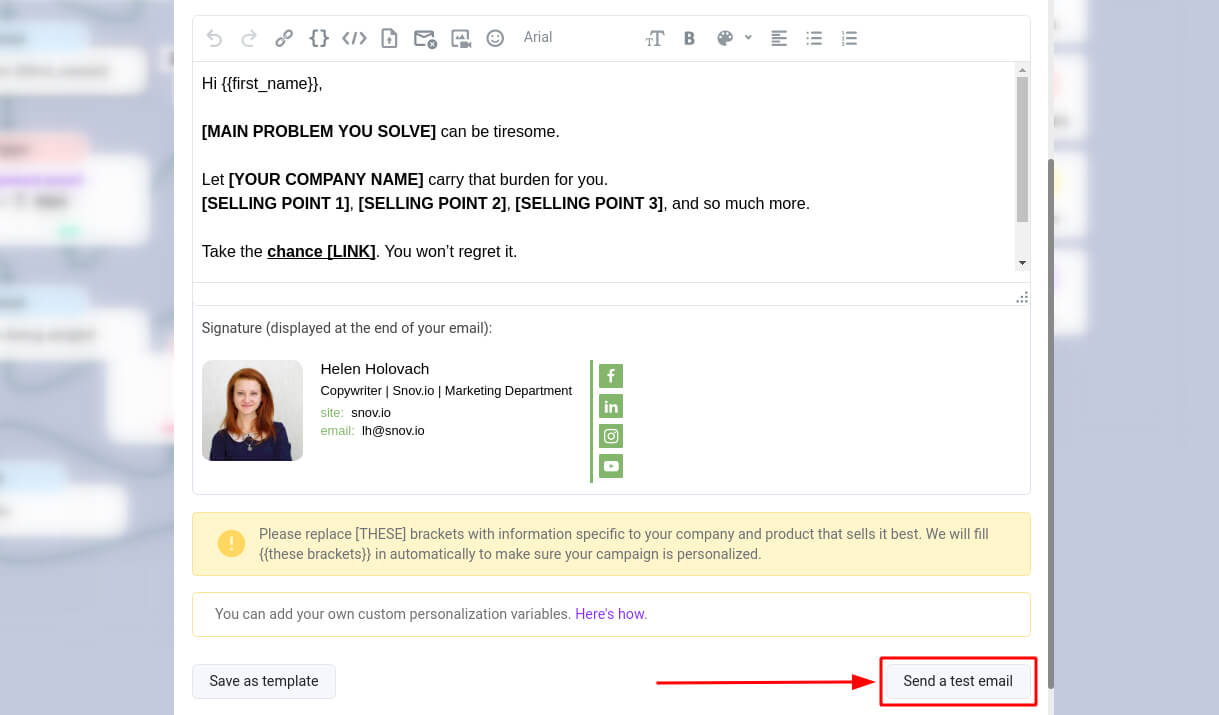 Split your large mailing lists into small ones.
This will help you avoid getting lost in the abyss of recipients' email boxes or if your leads live across different time zones. You don't need any limitations on the number of schedules that you can create.
Step 3. Compose Emails
A good email is a masterpiece. It needs a separate detailed paragraph for each part.
To write emails like an expert, make them valuable, attractive, and persuasive, you need to consider many email copywriting tips.
Here's a checklist to help you write the best message that boosts conversion rates.
Personalize your emails. Generalized emails are unsolicited commercial messages (SPAM) sent by marketers to promote products or services. People don't want to receive them.

Personalized emails are reliable and show your respect. You're a pro. You're ready to invest some time and get the details of everyone.

Show your professionalism.  To look like a pro, you don't need to do a lot of things. Use the professional sender's name (your name and your company's name) when sending emails. Greet people appropriately (without those "teenage" things). Insert an email signature. Double-check your spelling and grammar. And be natural.

Insert your brand name. Use it so that visitors get the idea of your product from the very first sight Three times through email works just fine: in the sender's name, once in the email, and the signature.
Implement your corporate colors. 
You already know about color psychology in web design, and you've used it effectively on your landing pages. To make your emails identifiable and associate able with your brand, include your company's logo and color scheme. A failproof choice!
Be laconic in both the email body and the subject line. Emails with 6-10 words in the subject line get the highest open rates. The highest rate is found for emails of between 200-250 words and 50 words (19% vs 17%).
Link to your website. Your message needs to include an action. Here's a link for your website, your call-to-action. You'll get more info about links further on.
Provide benefits. Don't focus on the benefits your product offers, because no one would want to read about how awesome you are. Everyone wants to know what they will get. Draw the readers' attention to the benefits they will receive.

Respect your leads. Besides a respectful tone, don't forget to include an unsubscribe link, and don't forget to give people options for unsubscribing if they want to. People prefer to unsubscribe from your emails if they can click a button instead of marking your email address as spam.

Test your emails out to make them mobile-friendly. According to research, 81% of email recipients check their inboxes on smartphones. You need open rates and conversions. Adapt your messages so that they appeal to both of them.
Besides the list of "must-have" items, here are some things you should avoid in your emails. Make sure your message doesn't contain any:
Spam triggers. Words like free, discount, now, Best, Cash, Money, and others are triggers for spam filters and people that may lead your email to be placed in the spam folder.
Jargonisms or professionalism. A teenager doesn't understand what an MVP (minimum viable product) or USP (unique selling proposition) is Use the language your audience is familiar with.
Colloquial shortcuts. People are not waiting for your btw, lmk, IMHO, btw, etc. They may understand you but using such a character set is unprofessional.
How to Use an Email to Improve the Website Conversion Rate
The main thing that will help you increase the website conversion rate is having a link attached to an e-mail.
When sending links, keep in mind a few points:
Use only one link throughout an email
Make it bright, clearly visible, easily found, and attract attention
Use the link as an email CTA
Do not use shortened links as people are suspicious about them
You can send a link to…
… your website
The best way to increase website conversions is to add a link in the email message to your website. Simple but effective ?
… a testimonial page or customers' reviews
People don't trust what you say about your company. They trust what others think about you.
Create a landing page with a good word about you. You can make even a few landing pages with testimonials and customers' reviews. Your leads and clients will gladly read what your satisfied clients say about you.
… your YouTube channel or videos everyone loves watching videos. You're perceiving information through your eyes and ears. That's the best way to engage others.
Create a YouTube channel and share a link to it, or send an email with a link to a particular video on your channel. Watch your audience grow! Don't forget to call people to action: provide links to your site, offer them to register or download a freebie! Attract them to the fullest!
… an engaging About page
Surfing the About page is fun. You can see who you're collaborating with. They are so entertaining and sometimes hilarious! Show that you are a real professional team that meets any clients' needs.
Do You Know Your Website's Hidden Growth Potential?
Take our conversion-focused web design test and see if your website is designed for conversion and which parts make people bounce off your site forever.
New tactics keep appearing and time flies. However, some were on the market for a long time and have already conquered the heart of professionals. Email is one of the most important tools for business
As the stats prove, email is not dead. It's a living thing and deserves your attention. If you want to improve your website conversion rates, it's easy with email outreach.
Email marketing is easy-to-use with a drip campaign tool, and an automation instrument. Combine email outreach with website improvements and you might see a high conversion rate.
We're here to help you create better emails. Just click  MySalesScript.com not only gives you the best email subject lines but those that can capture the attention of the audience.